Top Headlines
Fantasy Football
Murray has efficient day vs. Vikings
Kyler Murray turns in a decent performance vs. the Vikings as he goes 14-of-21 with 137 yards passing with no interceptions.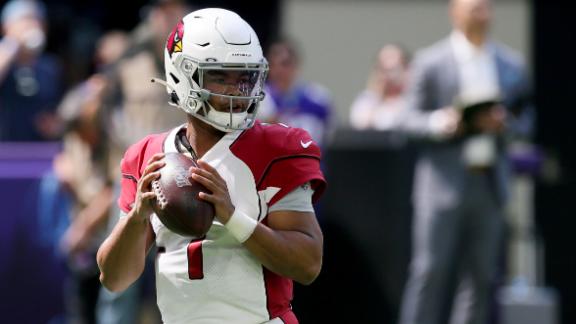 Cook bursts free for 85-yard TD
Dalvin Cook gets the handoff, finds the open lane and speeds downfield for an 85-yard touchdown.
Gruden ecstatic after Raiders' winning FG
Cam leaves the game after sack with foot injury
NFL nation
Power Outage
Stephen A.: We haven't seen anything yet from Daniel Jones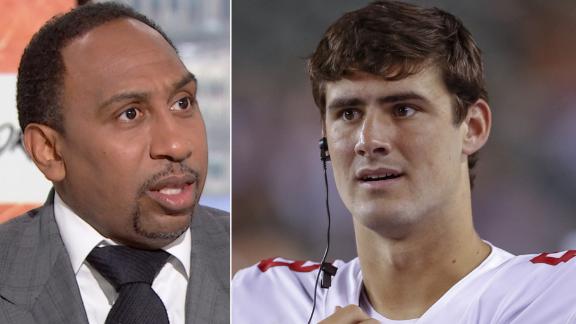 Sign up to play the #1 Fantasy game!
Catch up on Draft Academy on ESPN+
AP Photo/Jay LaPrete

An 8-part documentary following six players on their journey to the 2019 NFL Draft, including Nick Bosa, Drew Lock, Marquise Brown and Josh Jacobs on ESPN+
ESPN Illustration

Whose job is on the line this season? Here's how we project the NFL's best and worst teams, from 1-32.
Rich Graessle/Icon Sportswire

NFL Nation tabs Mr. Training Camp for every team, from the reigning Defensive Player of the Year to a potential quarterback of the future.
No bad days for the 'Ric Flair of the NFL'
Nhat V. Meyer/MediaNews Group/The Mercury News/Getty Images

The NFL has a Gronk-sized hole to fill. Enter the 49ers' Pro Bowl tight end and his infectious, tattoo-getting, TD-scoring, Joker-obssessed lust for life.
Customize ESPN
ESPN Fan Shop
Powered By